All Clinics
Austin Softball Coaching Clinic
4 world-class coaches. 4 unique points of view.
See softball differently as Ken Erikson (USA Softball), Carol Hutchins (Michigan), Kirk Walker (UCLA) and Jen McFalls (Texas) share insights and in-depth analyses covering everything from the outfield to the locker-room. Drawing on national team and top tier collegiate experience, you couldn't ask for a more knowledgable group of presenters. Batting, pitching, fielding, recruiting, team composition and much more. No matter what level of coach you are, you'll get the answers you're looking for!
The Art of Coaching Softball sets itself apart by giving you incredible training in a variety of different ways. Get on-field instruction at the brand new Westlake Athletic Center. Have a question? The clinic includes dedicated Q&A times where you get one-on-one access to all of the presenters. Afraid you'll miss something? Don't be! Every session will appear in high quality video online after the clinic. Every attendee also receives a clinic handbook to aid in note-taking and review. But don't worry! You don't have to try to scribble everything down, because you can go back and review the clinic videos at your leisure in the future. When you're at the clinic, you can focus on learning.
Are you ready to take your coaching to the next level? Join us in Austin this December!
Westlake Athletic Center, 4300 Westbank Dr, West Lake Hills, TX 78746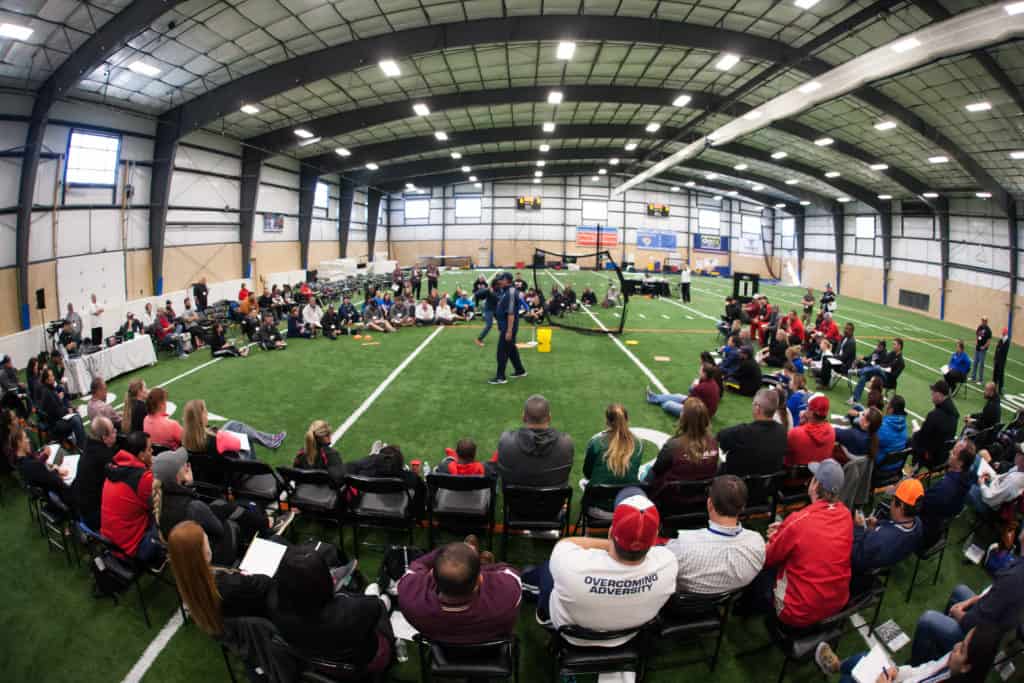 Register
Cancellation Policy
Cancel 60 or more days before clinic
90% of registration fee will be refunded
Cancel Less than 60 days before clinic
No refund of registration fee will be refunded
Attendee Benefits
Learn from some of the top softball coaches in the country, including NCAA Champions and National Team coaches

Receive a clinic handbook of drills, worksheets and lecture notes to bring back to your team

Access the clinic sessions that you attended online until the end of the year for easy recollection

Turn in your clinic hours for professional development hours
Schedule
Saturday, December 9th
7:30am
Doors open
8:00am
Clinic introduction
8:10am
10 things I've learned as a coach (All Coaches)
8:40am
Fielding & throwing basics (McFalls, Watley)
9:05am
Fielding & throwing drills (McFalls, Watley)
9:30am
Break
9:45am
Hitting overview (Hutchins)
10:10am
Hitting drills (Hutchins, McFalls, Watley)
10:35am
Base running to score more runs (Eriksen)
11:00am
Break
11:10am
Outfield skills overview (Eriksen)
Corner skills overview (Walker)
11:35am
Outfield drills (Eriksen, Watley)
Corner drills (Walker, McFalls)
<00pm td>
Lunch
00pm>
1:00pm
Pitching overview (Walker)
1:25pm
Bunting and slapping drills (Watley, McFalls)
Pitching drills (Walker, Eriksen)
1:50pm
Break
2:00pm
Middle infield overview (McFalls, Watley)
Catching overview (Eriksen)
2:25pm
Middle infield drills (McFalls, Watley)
Catching drills (Eriksen, Walker)
2:50pm
Break
3:00pm
Team Culture (Hutchins)
3:30pm
Question & Answer discussion (All Coaches)
4:00pm
Mingle with the coaches, product demos
4:30pm
Day 1 close