2020 Tampa Coaching Clinic
Learn from exceptional coaches with unique points of view.
See softball differently as Ken Eriksen (USA Softball, Head Coach) and Kirk Walker (UCLA – 2019 National Champions, Assitant Coach) lead an exceptional line-up of presenters. Sit back as our AOC coaches share insights and in-depth analysis covering everything from hitting to the locker-room. skill mechanics, offense/defense, team dynamics, running tryouts, using statistics and much more. No matter what level of coach you are, you'll get the answers you're looking for!
The Art of Coaching Softball sets itself apart by giving you incredible training in a variety of different ways. Get
live instruction
aided by a team of demonstrators. Have a question? The clinic includes dedicated Q&A times where you get
one-on-one
access to all of the presenters. Every attendee also receives a
clinic handbook
to aid in note-taking and review. Afraid you'll miss something? Don't be! Every session will appear in high quality
video online
after the clinic, so you can go back and review the clinic videos at your leisure.
Are you ready to take your coaching to the next level? Join us in Tampa this January!
University of South Florida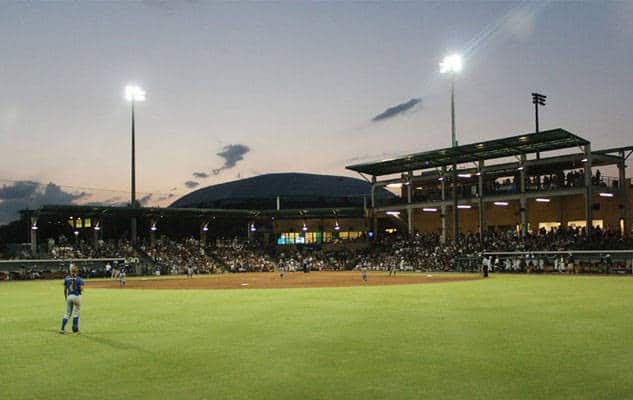 Register
Cancellation Policy
Cancel 60+ days before clinic
90% of registration fee will be refunded
Cancel less than 60 days before clinic
No refund of registration fee will be refunded
Attendee Benefits
Learn from some of the top softball coaches in the country, including NCAA Champions and National Team coaches

Receive a clinic handbook of drills, worksheets and lecture notes to bring back to your team

Access the clinic sessions that you attended online for easy recollection

Turn in your clinic hours for professional development hours

Get access to thousands of dollars in equipment giveaways and discounts

Network with hundreds of coaches in your area for future collaboration
Schedule
Clinic schedule coming soon!
Location
USF Softball Stadium - 11899 USF Bull Run Dr, Tampa, FL 33617
University of South Florida
Miscellaneous
What to Bring
Your ID for check-in

A pen / pencil / highlighter for taking notes

Clothes that are comfortable for sitting and walking (no playing necessary)

A water bottle that you can refill and snacks as desired

Cash / check / credit card to purchase memberships & products at special event pricing

Something soft to sit on (seat cushion, extra sweater, blanket, etc.) if you have a hard time sitting for extended periods!
What It's Like to Attend a Clinic
Testimonials
Everything I needed was included and beyond. Enlightening! I loved getting the perspectives of these coaches. They really opened my eyes in regards to how I can become a better coach to my kids. I would love to attend again!
This clinic was totally worth the 18 hours of total travel! There were many informative points that will be able to amp up my coaching.
As a very young coach I soaked everything in like a sponge. Each presentation was extremely helpful. I enjoyed the one-on-one talks during the breaks and how helpful and educational each coach was for coaches of every level at the clinic.
This was an awesome clinic! It was nice to see how the instructors fed off of each other's ideas. Very informative!
This was a fast-moving clinic with excellent knowledge being imparted by some of the game's most creative minds. I learned a lot about the advances in thinking and strategy!
Learned a lot! Simplified messages to help all athletes and coaches of all levels of experience. It was well organized with a great atmosphere about learning and bettering the sport.
Pictures