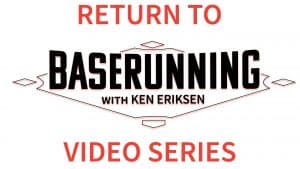 Coach Ken Eriksen goes over the rules of touching and re-touching for base runners and addresses the role of the base coach.
On a fly ball, the base runner will sometimes be overly aggressive and get too close to second base, and maybe over. But if the outfielder catches the ball, the base runner has to re-touch second base before returning to first base. If the base runner isn't 100% sure the ball isn't getting caught, the runner should get within a few feet of second base but should not touch it so they can more easily pivot back.
On the ground ball, the base runner should aggressively run to the bases but maintain field vision. Inevitably, there will be portions of the run when the runner will not be aware of the ball location. In that scenario, the coach should develop simple signals so they can communicate with the runner about the best possible move.