By Janis Meredith
Fireworks are fun on the 4th of July and New Years, but they are not at all enjoyable when it comes to your kids' sports.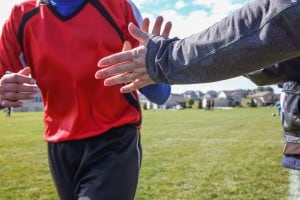 Blow-ups between parent and child are inevitable. And for some reason, when it comes to sports, the sparks can really fly. Do any of these conflicts ring a bell?
You think your child is not trying their hardest; they insist they are.
You want your child to talk to the coach about their playing time; they don't want to "whine."
You wish your child wasn't such a hothead in the game; they insist it's not their fault because the other player was being a jerk.
Competition is a breeding ground for charged emotions and when you and your child athlete disagree, the fireworks will fly. Here's how
you can avoid them.
Parent, Stay Out of the Game
Your child is playing the game; you are not. Let them play without your constant directions and criticisms from the sidelines. You may be trying to help, but you are really distracting your child. Now, she is not only worried about playing well; she is also worried about pleasing you.
Be the Parent, Not the Coach
The line between parent and coach can be very thin. Remember the last time you played catch with your kid? Or shot hoops? Or threw the football? Did you just have fun, enjoying the time together? Or did you start making suggestions, which quickly turned into pointers, which suddenly started to sound like a coaching session?
Unless you are THE coach, and unless your child specifically asks for your help, focus on parenting, not coaching. When you cross over that very thin line, conflicts can flare up.
Leave the game at the game
Celebrate as much as your child wants to after a great accomplishment. Mourn as much as your child needs to after a frustrating game. But there comes a point when you need to put sports aside. If you have nothing else to talk about besides sports, then before you know it, you will have nothing else to talk about. There's so much more to your athlete than his sports ability. Take time to appreciate it.
Let Your Child Play Her Game
Are you constantly trying to change who your child is? Maybe your kid is not as aggressive as you think she should be. Or she doesn't take charge as a leader like you thinks she should. Heck, maybe she doesn't even really want to play at all. Why are we as parents always trying to push our kids to be what WE want, instead of letting them be what THEY want?
Encourage, support, then get out of the way
If you hang at the gym for any length of time, you will see that some parents are way too pushy, even obsessed with their child's performance. Is that you?
The best thing you can do for your athlete is to encourage, support, then back off and let her play. Don't try to make her into a superstar. Don't try to relive your high school or college experience. Don't try to make her into something you could not be. Don't bring the fireworks home!